These coffin choices have been specifically chosen to help you add personality to a funeral. The range we have chosen are beautifully designed, sustainable, biodegradable and can be personalised. Tom Owen and Son are keen to offer options that are environmentally friendly as part of our Corporate Social Responsibility (CSR) commitment. You can read more on our CSR statement here.
We work with providers who are FFMA approved or a member of the World Fair Trade Organisation. All of the coffins we offer are suitable for burial or cremation.
This is just a small selection of the coffins that we have available. If you would like us to order in a specific coffin, we are able to do that for you.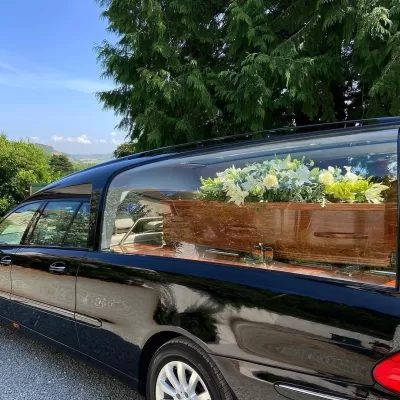 Oak veneer coffins
We offer an oak veneered coffin as our standard option. This comes in either a light or dark oak finish. This coffin comes with wooden handles as the standard, however we do offer the option to replace the wooden handles with brass effect plastic ones. Our coffins are supplied by JC Walwyn and Sons, a family business based in Derbyshire.
Cost is £495.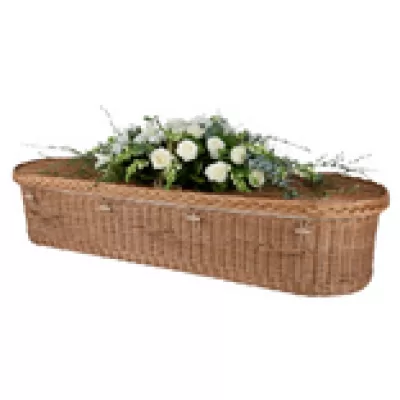 Wicker coffins
By opting for a coffin made from biodegradable materials such as willow, bamboo, banana or pandanus, you can help to minimise your impact on the environment. They are perfect for those wanting a greener send off!
Here at Tom Owen and Son, we have opted to use two suppliers for our wicker coffins; Ecoffins and Somerset Willow. Both of these companies have been chosen specifically by us. Each coffin is lovingly handmade.
Cost starts from £645.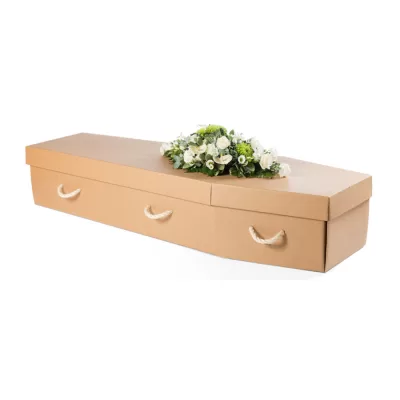 Cardboard coffins
Our range of cardboard coffins are supplied by Ecoffins. They come in either a manila or patterned option. The manila cardboard coffin is made from at least 70% recycled paper and wood pulp sourced from sustainable forests. With their rope handles they offer a stylish look at a lower cost.
Cost £395.